Document Management System
Country's leading ERP platform is a full, flourished, platform ready which provides secured document storage solution
Data is business. Access to the required information or record is very important in any business, especially when you deal with huge documents and clients. Cloud based solution helps you to organize & archive documents with proper access control so that you can access instantly for any purpose and big data analysis.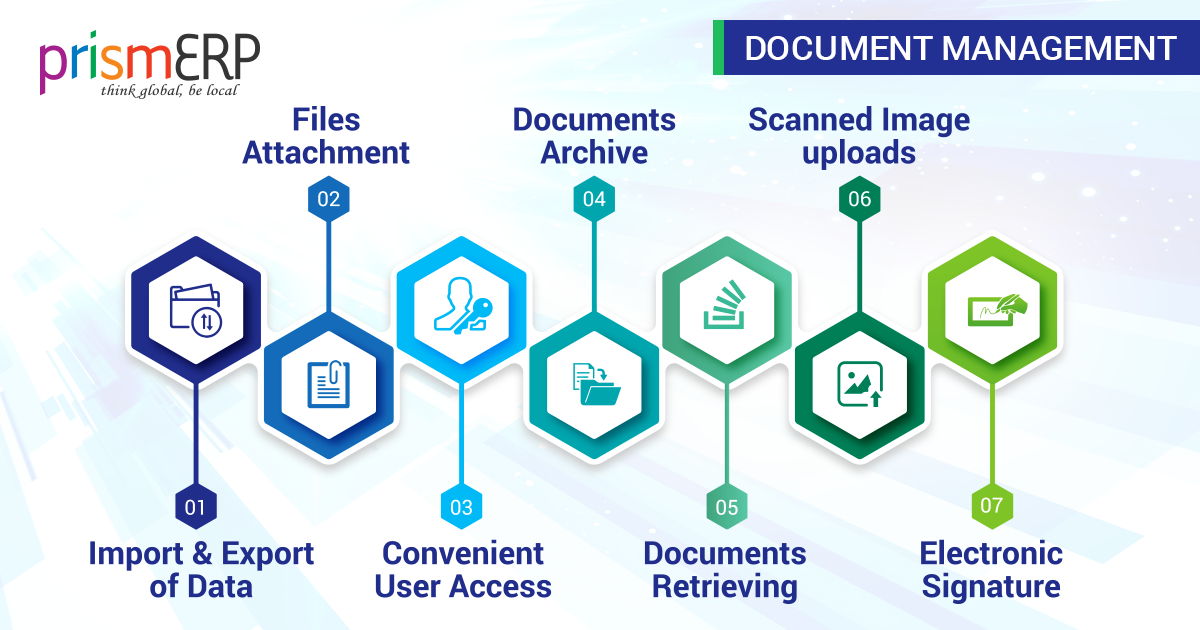 Paperless Document Management
Document managing and saving becomes easy with PrismERP. Documents can be uploaded without any inconvenience and can be shared, attached, retrieved and so on. The risk of losing a document is minimum using PrismERP.

Export/Import of Data in All Formats
PrismERP can import business data like - products or sale/purchase vouchers, employees, customers and much more from available document formats. The system is also able to export back any of the data when needed.

Convenient Access Control System
The system has the strongest access control system for documents. It works user wise, role wise, group wise, or a custom access role wise making it a complete leak free system.

Authorized Sharing of Documents
Sharing of documents with anyone of the system becomes easier with access control system. Tasks like- viewing, modification, sharing, deletion, archiving, retrieval of data can't be done without the right authorization.

Convenience in Creating and Attaching Additional Documents
This system has rich provisions to create additional documents and attach them to the related business data like vouchers, sales, purchases, customers, products.

Simple Online Storage Solution
PrismERP provides the option to link your documents with Google, Dropbox, and other online storage.

Archiving and Retrieving of Documents
When the documents become temporarily unused they can be archived and can be retrieved again when necessary.

Overall Document List
The list consists of an overview of the documents saved in the system. By this list an user can identify the required document easily and also get a summarized report of all the documents available.

Feature Document Analysis
All individual modules are integrated with features which are properly documented and can be viewed by this system.

User Based Reporting
Ever user is given an individual access point and every user has different document under their name- which can be viewed by every user when they access their portal.

Schedule a Live Demo
Go for a free practical demonstration in order to experience the user friendly platform of PrismERP