Loan & Investment
Manage your company loan & investment easily without any risk in this specialized ERP system
PrismERP has the ability to set out different types of loan for your business.As well as the investment which you will provide for your business can be recorded to the system and can manage it very easily. Various types of Loans includes company loan, property loan, EMI, LATR, project loan, time loan etc.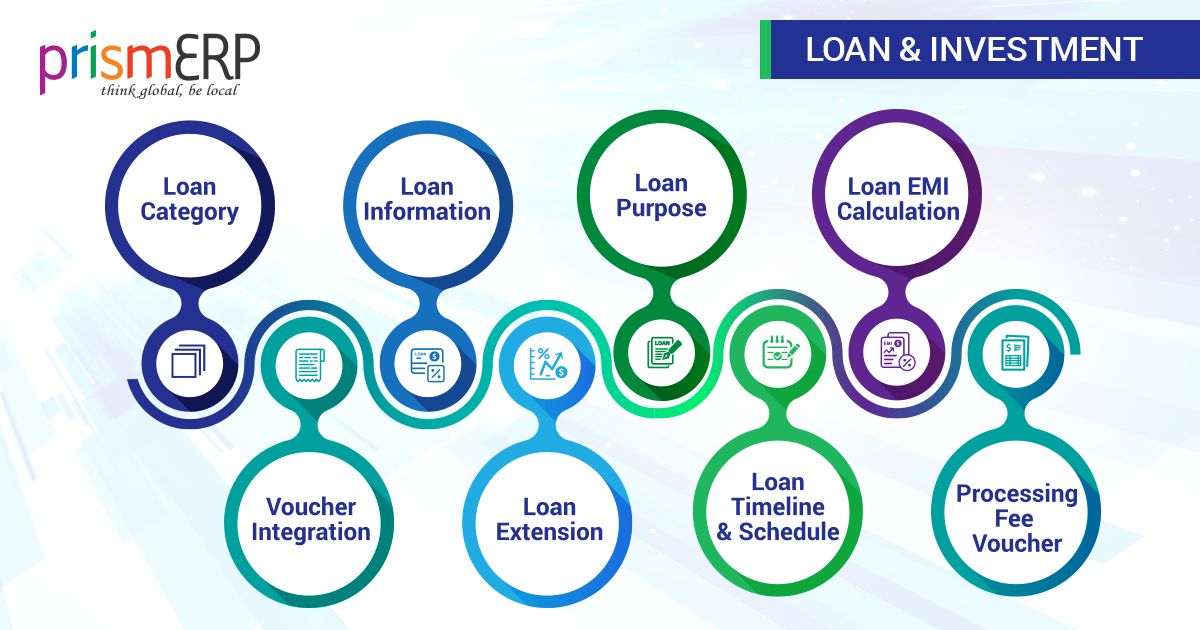 Standalone Loan Management
Individual Loans can be managed very easily from the system with full system procedure and proper accounting maintenance.

Monthly Instalment Loan
Lender & borrower can generate loans for certain period or calendar month and the system will automatically generate the amount per month to pay or receive within specified date.

Smart Investment facility
System allows to enhance with long term investment of your business for improving supply chain of operation, increasing sales revenue growth & proper decision making regarding critical investments.

Business Loan Management
All types of loan that are related to business or any other purpose can be easily proceed or applied from the system as well as in addition it can integrate to the bank.

Legal Documents procedure
Proper documents of any kind of loan procedure can be easily managed with this automated ERP system solution which will help you to manage the documents of loan easily

Loan against Asset
Through various asset of your business you can manage the loan easily from the system by mortgaging particular asset.

Payment procedure
Loan payment and loan sanction is easy to manage from the ERP system and can sanction from 3rd party system such as from Bank and providing payment invoice.

Loan list Reporting
Preparing and showing all the list of loans via reporting that has been taken for your overall business as well as listing all the types of loans with proper data and recordings.
Bank Loan Statement
PrismERP system can provide all the bank statement of loans via reporting so that you can see the overall total loans that has been sanctioned from bank.

Investor List Reporting
Checking out the number of investors that has provided their investment in the business and making a proper analysis for future investments.

Schedule a Live Demo
Go for a free practical demonstration in order to experience the user friendly platform of PrismERP