Procurement
Rewardable Local & Foreign procurement integration leads you to competitive world of Business
PrismERP offers convenient solution by analytical representation of all stage of procurement without the risk, depending on industry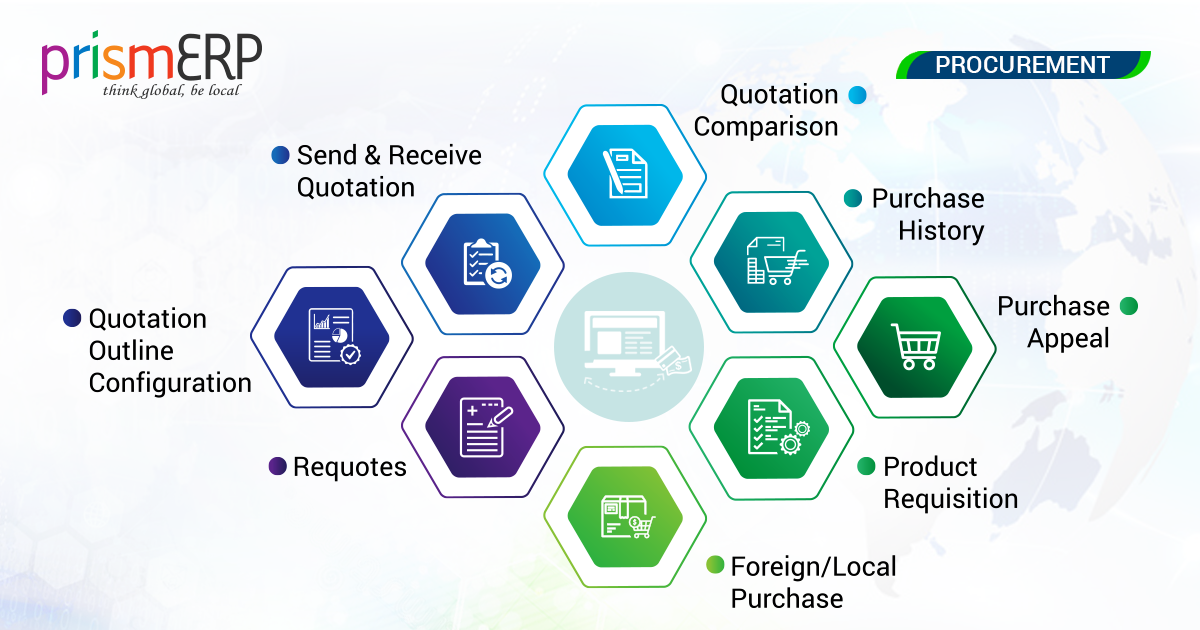 Requisition for Goods
Goods purchasing becomes easy as notifying the correct department can bring the desired goods at the right time

Requesting for best purchase
Requirements of goods like manufacturer quality, quantity and type can be suggested to the specific department for certain goods

Greater facility for quotations
The application allows to make a receipt of each quotation depending on the vendor's response therefore each quotation can be compared with each other.

Precise Arrangement of Products
All product records are maintained in the system. They are arranged according to their category, bar codes, delivery system to help users identify the products easily. Purchase price, vendor name, model name and also a brief description is included in the product information for future reference
Proper identification of vendors
Proper tracking of products shows which vendors are valuable for the business. It solidifies the relationship with specific vendors hence eliminates the hassle of searching for new vendors

Proper Maintenance of Inventory List
A detailed inventory list ensures profit in a business. The correct record of location of each product eliminates time and energy of workers to locate a product. It also eliminates the need of purchasing additional products

Reduces Expenditure of a Business
Existing products can be added to the inventory list using this feature which eliminates the need to buy a similar new product.

Purchase Delivery Reporting
Delivery of products to inventory becomes easy by this detailed information of products which includes, serial number, category details, manufacturer information and so on

Status of Inventory
The complete list of each and every product of the inventory is available in the report. A company can get the full overview of their products from this report

Quotation Analysis
Each quotation received from vendors can be compared based on quality, quantity and price by this report. Therefore, making a purchase easier for the company

Schedule a Live Demo
Go for a free practical demonstration in order to experience the user friendly platform of PrismERP